Fitness Suite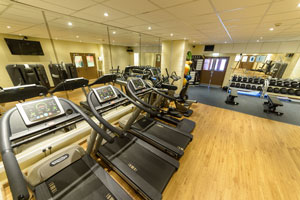 The fitness suite is equipped with kit from the Technogym Kinesis range, the latest in fitness innovation, style and usability. Our Home Page video demonstrates the equipment that we have.
To work alongside your Kinesis workout the ARKE wall combines the best solutions for full freedom of movement to perform day-to-day activities in the best possible way, to achieve optimum physical fitness, coordination, stability, balance, flexibility, strength, speed, agility, reaction time, cardiovascular and respiratory capacity.
The fitness suite is open to members aged 16 or over.
Fitness Suite Timetable
Day

Term Time

Holiday Period

Monday

6:00am – 8:00am
6:00pm – 10:00pm

7:00am - 9:00am
5:00pm - 10:00pm

Tuesday

6:00am – 8:00am
6:00pm – 10:00pm

7:00am - 9:00am
5:00pm - 10:00pm

Wednesday

6:00am – 8:00am
6:00pm – 10:00pm

7:00am - 9:00am
5:00pm - 10:00pm

Thursday

6:00am – 8:00am
6:00pm – 10:00pm

7:00am - 9:00am
5:00pm - 10:00pm

Friday

6:00am – 8:00am
6:00pm – 10:00pm

7:00am - 9:00am
5:00pm - 10:00pm

Saturday

7:00am – 6.00pm

7:00am – 6:00pm

Sunday

9:00am – 6:00pm

9:00am – 6:00pm